News and Events
Students meet Children's Laureate, Cressida Cowell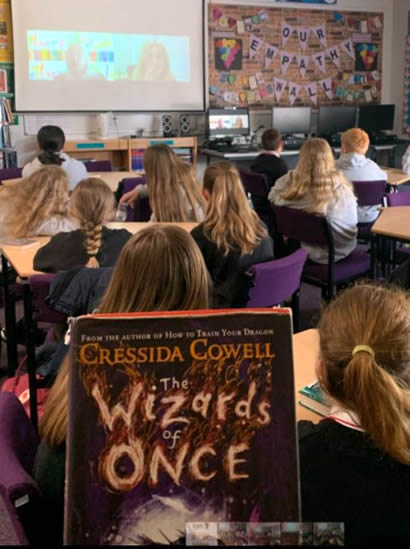 Some of our Year 7s were lucky enough to take part in an exclusive online event to meet Children's Laureate, Cressida Cowell, as a thank you for participating in the Readathon. Special arrangements were even made for students who were isolating so that they could join in from home.
Cressida, who has sold over 11 million books worldwide in 38 languages, is author of 'How to Train Your Dragon' and 'The Wizards of Once'. She shared lots of tips and advice to encourage students to have belief in their own creativity. One idea, which students loved, was to have 15 minutes a day of "creative time" - writing or drawing in a special book which they keep just for themselves. Cressida also talked about the joy of reading or listening to others reading aloud.
Students were really interested to see the writer's childhood work. She had struggled to spell even her own name at first, but this work eventually became the idea for a book.
This was a fantastic experience for our students who left the event feeling inspired to write their own stories.