News and Events
UNISON "Star in Our School" award for Mrs Lindsey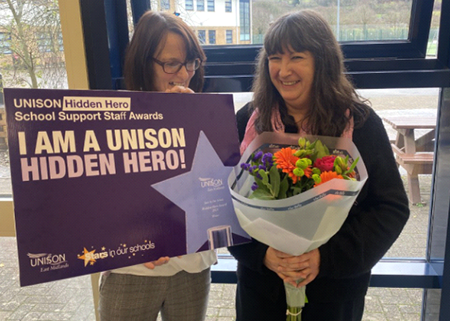 Here at Chapel High we have always known that we have an exceptional team of caring and professional teaching and support staff. This week we were delighted that the efforts of one of our Teaching Assistants were recognised by UNISON. Mrs Lindsey was presented with the prestigious UNISON "Star in Our School" award.
"Stars in Our Schools" is an annual competition run by UNISON, the UK's largest public sector union. Mrs Lindsey was nominated, for her unfailing and cheerful dedication to our students, for whom she often goes well beyond the call of duty.
The Learning Support team managed to make all the arrangements with UNISON in secret, ensuring that the award was a huge surprise to Mrs Lindsey. They even organised a party to celebrate the award, with students baking goodies for everyone to enjoy.
The students were thrilled to see Mrs Lindsey receive her award, which was presented by UNISON's Regional Officer and Branch Secretary. Students gave her the biggest cheer of appreciation we have ever heard! Congratulations to Mrs Lindsey, we all appreciate everything you do.