News and Events
Issue 4 of The Summ'it is out now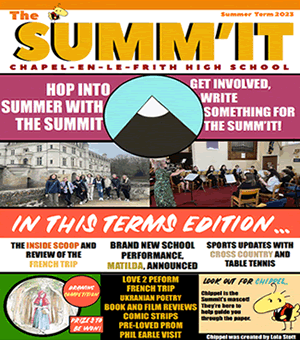 The latest issue of our brilliant school newspaper, The Summ'it, is out now. Our team of student journalists, editors and designers have packed it full of school news, including a review of our "Love 2 Perform" concert, an article about the trip to France and a summary of the recent sports competitions. There is also a wonderful selection of comic strips, artwork and poetry all done by our very talented students. A huge well done to the team for another great issue.
Everyone is welcome to contribute to The Summ'it. You could create a puzzle, put together a recipe or write about something you are passionate about. Any students who would like to get involved should see Miss Hibbert, our School Librarian, to find out more.
You can view Issue 4 here. Look out for Chippel, the newspaper's mascot, who will guide you through.