News and Events
Helping pupils in schools around the world with our old textbooks.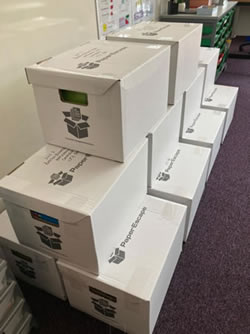 Well done to Ms Vickers' tutor group who came up with a brilliant idea to help others and re-use our old textbooks. Students have been busy boxing up over 400 textbooks from different departments, including Modern Foreign Languages and Geography, ready to be re-distributed to schools around the world.
Although the books are now out-of-date for the courses we study here at Chapel, they are in fantastic condition and are still relevant for the education of children in schools that may not have such easy access to materials as we have. Instead of going into landfill, the books will find new homes and will continue to be useful.
Fantastic work by 8B3 and Ms Vickers – you have helped others to learn and saved the environment in one go! We would also like to say a big thank you to Paper Escape, a company based in Chapel, who donated the packing boxes for this project.