News and Events
Girls' cross country team reach national final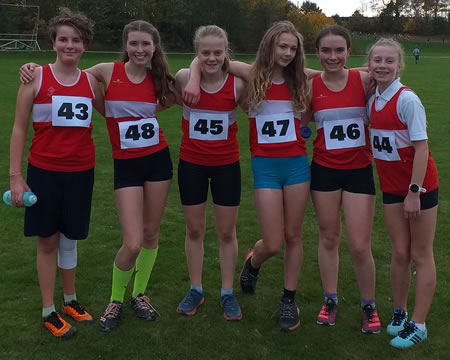 Our Chapel High cross country girls' team have proved once again that they are a talented group of runners. They have qualified for the prestigious English Schools Cup national final which will be held in Newquay, Cornwall, in December.
The intermediate girls' team first qualified from the county round back in October, and went on to run a fantastic race in the regional final, coming in third place.
This is the first Chapel High girls' cross country team to reach this major national final and we are thrilled for them.
Miss Milne, Head of PE, said: "The school is very proud of this group of girls who thrived on a fast but hilly course. They have all benefitted from the coaching of Dan Latham who organises and coaches the athletes at the high schools' running club. It is a particularly pleasing result as four of this team will still be eligible to compete next year."
The team comprises Grace Longden, Emma Johnson, Lucy Whelan, Jasmine Murphy, Florence Johnson and Henna Crossfield. The girls' success has been celebrated in an article in the Buxton Advertiser which you can view here: https://www.buxtonadvertiser.co.uk/sport/other-sport/chapel-en-le-frith-high-school-cross-country-side-make-nationals-3460650
You can also view the race results on the English Schools' Athletics Association website: http://www.esaa.net/v2/2021/xccup/xccup21intro.php
To find out more about our sports clubs and activities, including cross country running, go to the Clubs and Activities page of our website.