News and Events
Female Football Match fundraiser for Prom 2024
**Sponsors wanted**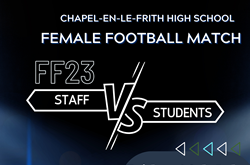 We will be hosting our first ever Female Football Match to raise funds for the 2024 Leavers' Prom and local charity, Blythe House Hospice in September - new date to be announced soon. This event will take place after school and there will be staff and student teams, many of whom have never played football before.
We're looking for a local business to sponsor the matches. The money raised will go towards next year's Leavers' Prom – helping to make this special event more affordable for our students. We will also be fundraising for Blythe House Hospice, a wonderful local charity.
This is a great opportunity for staff and students to have fun while we raise money, and everyone is welcome to come along to watch the matches and support the teams. There will be stalls set up on the day, including refreshments, a sweet tombola and a "Beat the Goalie" game.
Any local businesses who would like to sponsor this event can get in touch with the school by phone 01298 813118 or email enquiries@chapelhigh.org.uk