News and Events
Celebrating superb GCSE results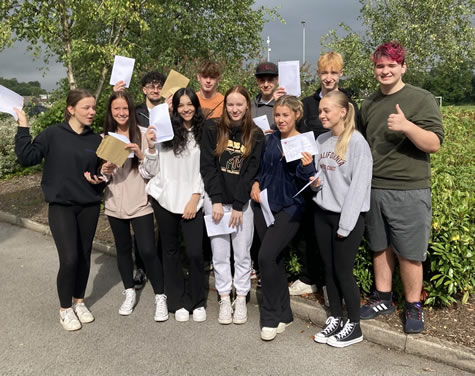 A huge congratulations to our students who achieved some superb GCSE results this year. We welcomed Year 11s and their parents into school during the summer to collect their results. It was fair to say that nerves were on edge as they arrived, however, it quickly become clear that their hard work had paid off, with many struggling to contain their emotions as the reality of their success sank in.
We are proud of a very strong performance in the core subjects of English, maths and science.  And we are also delighted that our students have succeeded in a wide range of options, for example results are well above average in all three of the foreign languages that we offer.
Headteacher, Simon Grieves, said:
"The recent media coverage suggesting a return to 2019 pre-pandemic grading makes these results even more worthy of celebration, we've had some brilliant student performances across the ability range. We have learned since results day that our results are above national average in almost all subjects. These students have shown resilience and a real determination to succeed; this, coupled with the support of staff who have gone above and beyond, means that students are reaping the rewards today."
These fantastic results will take them on to the next stages of their education or training, with students going on to study at a wide range of colleges and sixth forms, or to start apprenticeships. We are extremely proud of them and wish them the very best of luck in the future!