News and Events
Carnegie Book Club explore shortlisted titles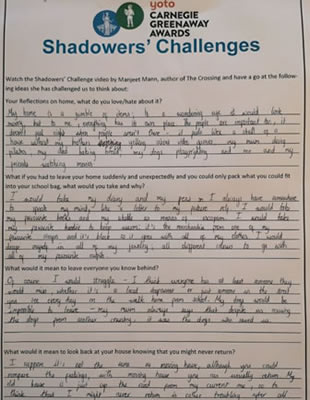 Our Carnegie Book Club are enjoying reading from a fantastic selection of books which have been shortlisted for this prestigious award. The group are working their way through eight titles and will then get to vote for their favourite. The students, who are in Years 9 and 10, meet up once a week on a Friday lunchtime to talk about the books, share their thoughts and take part in activities relating to the books' themes.
Here is a brilliant example of an activity the Book Club have taken part in where they watched a video by author Manjeet Mann about her shortlisted novel 'The Crossing'. This book is about two teenagers from opposite worlds and tells a story of the hope and grief of the refugee crisis. Students shared their thoughts about what home means to them and how they might feel if they had to leave. This Year 10 student has articulated her thoughts beautifully.
The winner of the Yoto Carnegie Greenaway Award will be announced on 16th June.