News and Events
Celebrating linguistic diversity on the European Day of Languages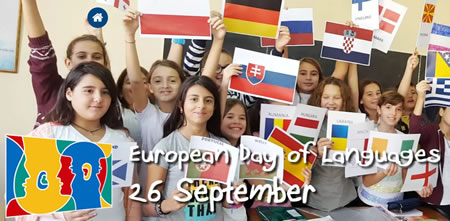 Learning a language is an important part of student life here at Chapel High. We believe that this helps to achieve greater cultural understanding. This month the modern foreign languages team have been celebrating linguistic diversity in Europe as part of the European Day of Languages. This is the 20th anniversary of this special event, which commemorates and promotes multilingualism.
Schools all over the world have been participating with their own celebrations and activities. Staff here have been marking the festivities in different ways, for example surprising students by greeting them in Italian or writing the date in a new language. Students have also been saying "thank you" or "goodbye" in a different language to surprise their teachers and to get everyone talking about the benefits of learning a language.
Everyone, parents, staff or students, can join in with events and take part in competitions on the European Day of Languages website. Activities include recording yourself singing "Happy Birthday" in as many languages as you can (to be included in a special social media video) or collecting birthday dessert recipes from around the world in different languages (those selected will be included in a special 20th anniversary edition recipe book). Let us know how you get on!