News and Events
Back to school - a message from the headteacher.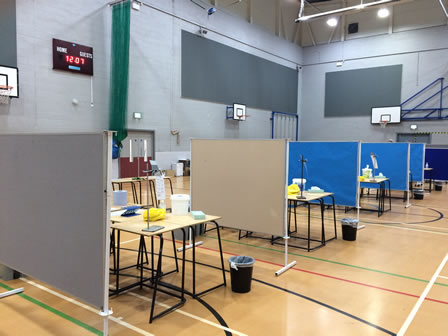 I am delighted to be welcoming all of our students back to school this week. We had a very normal autumn term here, with very little disruption caused by the pandemic, so it was a shock in January to learn that schools were closing to most students.
Like other schools, we have remained open to vulnerable students, those with special educational needs and children of critical workers. We have had about one hundred students in school every day. I am especially proud that our learning support provision has remained open as normal throughout both school closures. The students in school have been brilliant. Many have enjoyed having a big empty school all to themselves! They have done some great work.
We were well prepared to teach students at home and we have all learned new skills of remote learning. We now have students who can negotiate a Microsoft Teams meeting better than many adults. We have also learned to run virtual parents' evenings, substituting the school hall for a chat over a video link. These have proved popular and might well be here to stay. 'Lockdown learning' has worked well for some, and inevitably for other families has been more of a struggle. We have been able to help families with access to computers, giving out around 70 laptops from the Department for Education scheme. However, home education is never a substitute for being in school, and that is why we are looking forward to seeing students back in the classroom.
We are offering rapid COVID-19 tests to all students before they return to school and two more tests over their first fortnight in school. This has meant converting the school's sports hall to a test centre staffed by volunteer members of school staff. It's a big logistical exercise with about 1300 tests to be completed this week alone, but it is going really well. Parents have been great, being very supportive of the testing, and the students have risen to the challenge doing the tests sensibly and quickly.
Our students bounced back quickly after the first set of school closures last year and we are expecting the same to happen this time. Young people are resilient, we are confident that they will quickly be back learning and enjoying being in school. We have always believed that school is about more than just working for exams and we are aiming to get all that extra stuff up and running as quickly as we can. For example, we have a big programme of after school sport starting next week, getting students outside, with other young people doing things that they enjoy.
Simon Grieves
Headteacher